ROTO
SOL BY ROTOMAG
---
---
Rotomag Motors & Controls Pvt. Ltd. is a globally recognized manufacturer of high performance "ROTOSOL" Solar Pumps, Controllers and a comprehensive range of DC Motors.
Rotomag's group companies Rotomotive Powerdrives India Ltd. manufacture AC motors, Gearboxes and Drives for Electric Vehicles.
Every year, over 30000 motors are exported to discerning customers in more than 20 countries across the world, including several European countries.
The ROTOSOL solar pumps are available in a wide range for both surface and submersible applications and are ideally suited for drinking water, flood irrigation, drip irrigation, sprinkler systems, live-stock watering, aquaculture projects, salt pan farming and urban water supply.
Our modern manufacturing facility is spread over an area of 15000 sq.m and has a capacity to manufacture over 750 motors and pumps per day with key operations like winding, magnet assembly, magnetization, impregnation, assembly and testing being carried out inhouse. The assurance of ISO9001 quality systems allows us to achieve consistent quality, production flexibility and control over process variability.
We also have design and engineering capabilities to reconfigure our pumps or develop customized pumps for variety of applications as per customer requirements.
ROTOMAG WAS THE FIRST COMPANY CHOSEN BY THE INDIAN MINISTRY OF NEW AND RENEWABLE ENERGY (MNRE) TO DEVELOP 2 HP SURFACE SOLAR PUMP FOR ITS HIGHLY SUCCESSFUL PUMPING PROGRAM IN THE STATE OF PUNJAB AND HARYANA IN 1999.
rotomag group comprises of 2 companies and 5 brands
---
---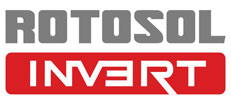 Solar Photovoltaic String Inverters